Computerized jacquard weaving machine
RFC-22HV Model
The computer of this weaving machine reads
the design data made by design software of
a personal computerized controls open-close
of warp threads.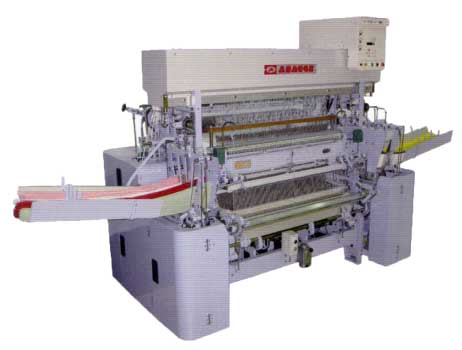 Easy handling of design data.
Design pattern cards are no longer needed.
Design patterns are saved in a small USB memory.
You can save the storage space and cost for the design pattern cards.
Easy and speedy changing of design.
What you need to do to change the design pattern is, use USB to transfer the data to the weaving machine.
Number of designs depend to the size of memory.
One design pattern can be used with two or more weaving machines at the same time by memory copy.
It is useful that producing small quantity; rapid delivery order or sample order.
Auto-pick system, mis-feed preventing mechanism.
When the defects happened by mis-feed.
Mis-feed preventing mechanism works at once.
At the same time Auto-pick system retrace design to the original.
Thus there are no defects and non-stop high quality mat weaving can be proceed.
(Depending on the situation, there may be a case that the weaving defects are seen.)
Quiet and low vibration machine.
It is very quiet and less vibration machine compare to the mechanical jacquard because
of hanging strings.
Compact machine.
The machine height is about 700mm lower than mechanical jacquard weaving machine.
The stability becomes much better also

1.Control panel
2.Compact design
3.Computer software for designing
4.Start & Inching switch
5.Computer controlled thickness adjustable device
6.Mis-feed preventing mechanism