For speedy steadily and clean packaging process.
AW-3D Model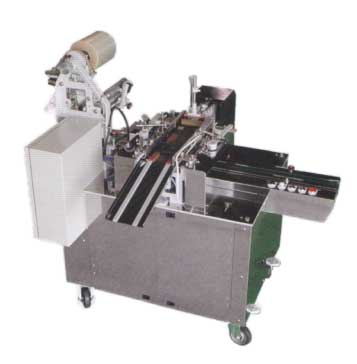 Automatic stop device
AW-3D stops automatically when it senses finish of goods and or wrapping material. Thanks to this function, no waste of goods and wrapping material will be born. Also it has an emergency stop function when someth ing wrong happens such as distinct difference of goods size and so on.
Easy adjustment of wrapping size
According to the size of goods width and length of wrapping size can be adjusted very easily. Packaing material press device. When wrapping, this device presses the packaging material to the goods properly to prevent it would be shifted around.
Compact
Required floor area is just about 800mmx800mm. Easily installed with free wheel.
Date printing device
Date can be printed on packaging material during wrapping process.
Double wrapping device
Double wrapping device with 2 different packaging material is available at your option.