Top Message
Together with the changing of the times in providing ease and comfort to society with our products since our company's founding, we have been improving our ongoing research and technology, and we have made it here today through the spirit of our customers. As a result, we have been able to introduce many of our weaving machines out to the world, thanks to our customer's guidance and all our staff's efforts. In continuing to preserve our tradition. I believe in the original philosophy of "The company is the man", as it is the responsibility of both our company staff and myself to devote ourselves in serving our customers. We sincerely ask for your continued guidance and support.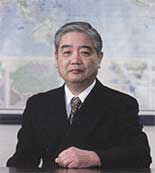 Masaaki Asagoe
President
Asagoe Machine Mfg. Co., Ltd.
Company Data
Company Name
Asagoe Machine Mfg. Co., Ltd.

Address

Registered Office :216, Seno, Minami-ku, Okayama City,Okayama Pref. Japan

Head Office,Factory :950-1, Mishima, Minami-ku, Okayama City,Okayam Pref, Japan

Tel : 81-86-282-2008

Fax : 81-86-282-5693

E-mail :asagoe@asagoe.co.jp

URL :http://www.asagoe.co.jp

Established
1939
Paid up capital
20,090,000yen

President
Masaaki Asagoe

Line of business
Manufacturing ;
-Automatic Grass Mat Weaving Machine
-Jacquard Weaving Machine for P.P. Mat
-Weaving Machine for Blinds
-Rapier Type Weaving Machine
-Laver Screen Weaving Machine
-Fish Paste Cake Packaging Machine
-Handling Machine in Noodle manufacturing Line
Land Area
Registered Office  264square meter  204square meter
Building Area

Factory  5,000square meter 2,416square meter

2nd Factory  2,646square meter  1,961square meter

Group Company
Group Company: Asagoe Kogyou Co., Ltd.
Company History
1877
Asagoe Shoten established.
Started manufacturing of Tatami Omote Grass Mat.

1930


Started manufacturing of Weaving Machine for Tatami Omote Grass Mat.

1939

Divided from Asagoe Shoten and Asagoe Machine Mfg. Co., Ltd. was founded.
1957

Started Manufacturing casting parts for general machinery

1961
Started manufacturing automobile parts
1964
Casting parts division separated into Asagoe Kogyou Co.,Ltd.
1964
Completing of full automatic Jacquard Weaving Machine

1967

Completion of initial type of Jacquard Weaving Machine for PP Mat

1970
Completion of Fish Paste Packaging Machine

1976
Completion of initial type of BlindWeaving Machine

1981
New factory built

1989

Automobile parts division separated

2000
Completion of Electronic Jacquard Weaving Machine
Specific feature of our company
We have devoted ourselves to developing new technology & products.
We are proud that we can work for the public good through our efforts.
In particular, our main product has been gaining popularity all over the world for its high quality.
We send technical engineers to the development of production technique in these regions.